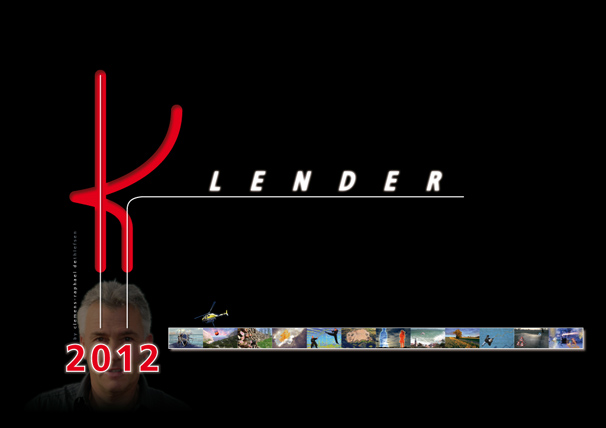 Auch der Kalender für 2012 stellte eine deutliche Herausforderung dar an den Gestalter: Clemens-Raphael Dethlefsen, von mir aus gesehen: Imago ergo sum.
Denn es ist nicht damit getan, das eigene Bildarchiv zu durchforsten und geeignetes, besonders ästhetisches Material ein wenig aufzuhübschen und als Innovationsschub zu präsentieren. Nein, solange ich die Bildnerei Erst nehme, gehe ich einen Schritt weiter und versuche das zu gestalten, was ich bisher noch nicht gestaltet habe, mir also bisher entgangen ist. Daher sind die entstehenden Elaborate eher investigativer denn schöngeistiger Natur, spiegeln eher den Stand einer Untersuchung als einer kalkulierten Ästhetik wider.
So ist ein kein Wunder, dass der entstehende 'Stil' des aktuellen Kalenders nicht als ästhetische Nische und Begrenzung zu verstehen ist, sondern als Erweiterung der bisherigen, auf der bisherigen Wahrnehmungsfähigkeit basierenden Kreationen.
The calendar for 2012 is a significant challenge to the designer Clemens Raphael Dethlefsen, seen from my point of view: Imago ergo sum.
For there it is not enough to sift through your own image archive and appropriate, particularly aesthetic material to embellish a little and to present as an innovation boost.
No, as long as I take imagination seriously, I go one step further and try create the things I haven't  made ​​yet, to me so far escaped. Therefore, the resulting investigative works are rather than beautiful spiritual in nature, rather reflect the state of an investigation as a calculated aesthetic.
So it's no wonder that the resulting 'style' of the current calendar is not intended as aesthetic and niche limitation, but as an extension of the previous, based on the previous perceptibility of already exisiting creations.